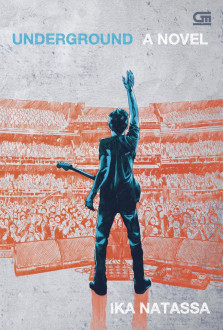 20%
OFF
Underground (Non TTD)
(Soft Cover)
---
Harga Resmi
:

Rp. 135.000

Harga
:

Rp. 108.000

(20% OFF)
| | | |
| --- | --- | --- |
| Ketersediaan | : | Stock di Gudang Supplier |
| | | |
| --- | --- | --- |
| Format | : | Soft Cover |
| ISBN | : | 6020319466 |
| ISBN13 | : | 9786020319469 |
| Tanggal Terbit | : | 29 Februari 2016 |
| Bahasa | : | English |
| Penerbit | : | Gramedia Pustaka Utama |
| Halaman | : | 552 |
| Dimensi | : | 135 mm x 200 mm x 14 mm |
Deskripsi:
Welcome to Underground, the most prominent music television station in the United States, where young, talented entertainers and VJs live their normal lives, that is if you can call living under the limelight for ten hours a day, flying on Marquis Jet to cover AmsterJam and Live 8, and pose for the cover of Rolling Stone magazine 'normal'. Under the spotlight, everything seems perfect. Liv has just been listed as one of the 50 Most Beautiful People in the World. Stefan, the so-called most eligible bachelor in New York, succesfully started a celebrity online promotion company. Gavin got his band signed on a major label. Claire is being headhunted by MTV and VH1. Heather and Jared are making the most of their love story on set. Shareef and Aaliyah can easily replace Brad Pitt and Angelina Jolie to pose for W magazine as the pefect American family. But when the spotlights have went out and the red carpet has been rolled, they have to face the hard truth. Abstinence versus promiscuity, gossips on tabloids, drugs, plastic surgery, to unwanted pregnancy are just the tip of the iceberg. Underground is a simple novel about the complex life of celebrities, although like most of us, they are too still trying to define the true meaning of friendship and love.
Kategori dan Rangking Bestseller:
Tentang Ika Natassa:
Buku Lainnya oleh Ika Natassa:
Pelanggan yang membeli buku ini juga membeli:
5

100%
4

-
3

-
2

-
1

-
oleh
Azelia Trifiana
pada
Selasa, 3 Mei 2016
Ceritanya bagus mengalir, plot menarik, bikin inget masa masa MTV di tahun 90an
oleh
Azzam Alfa
pada
Senin, 29 Februari 2016
Yay! Akhirnya dapat juga yg edisi free TTD.. sama seperti novel Ika lain, novel ini begitu asik untuk dibaca.. gag sabar nunggu Architecture of Love rilis April nanti.. di bukabuku harus adain PO + TTD nya yaa!!